The Cambodia Rural School Project
The Jack and Helen King School
---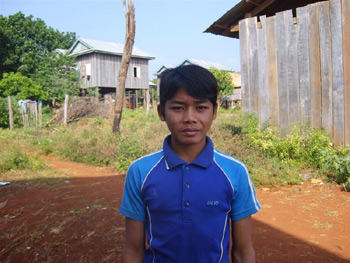 Ba Heuf is 16 years old and a fifth grade student at The Jack and Helen King School. He ranks number 1 out of his twenty classmates.
Ba Heuf has eight siblings: three boys and five sisters. He is the third child in the family. His youngest siblings go to a primary school in the village far from his school. They live with his parents. Ba Heuf lives in La Inn village with his grandfather.
"My parent plant rice and other vegetables on a small farm," said Ba Heuf.
"In school, I am the best student in my class. My favorite subjects are Khmer language and Math," said Ba Heuf.
"When I grow up, I want to work with an organization for the development of my village," he added.