The Cambodia Rural School Project
The Kdey Krav Nippon

Foundation School
---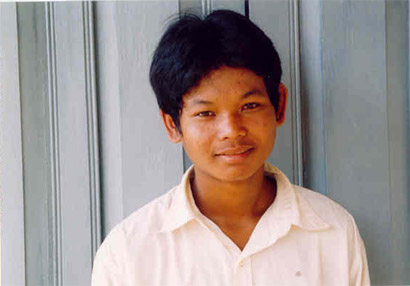 Chhorn Chhay is a sixth grade student at the Kdey Krav Nippon Foundation School.
Out of the 35 members of his class, he was ranked third. He is eighteen years old.
On the new building:

I'm very happy to have this new building. It looks strong and nice. It has many new desks and benches, and the blackboard is much nicer than the old one. Windy or rainy outside, we can continue our class. Furthermore, as there is no more excuse for teachers coming late, classes start on time. I have many friends at this school, too.

On school subjects:

Oh! I'm good in Khmer literature, but I like Mathematic because it is easy to get good test scores.

On his spare time

:
I like to play football. When I have free time I hang out with my siblings. I go to a pagoda during Khmer New Year. I will go to Ankor Wat if I earn some money.

On his future:

I want to be a teacher so that I can make money to feed my family and educate the next generation. I don't want children in Cambodia to be like my parents who don't even know the alphabet.

On his family:

My father and mother ran away from home leaving my brother, my sister and me at our grandparents. My grandparents are both farmers. My younger sister is still a baby, and my younger brother is studying in the third grade at new school.

I would like to say thank you to the donors and I wish them a long life.