The Cambodia Rural School Project
The Kork Romiet Nippon

Foundation School
---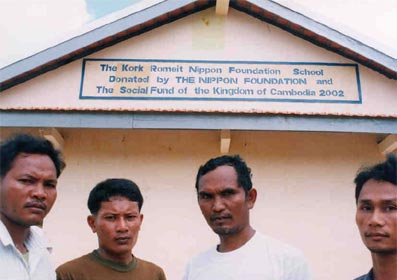 From left: Mr. Koe Sokhom (36; teacher), Mr. Vong Lyheang (28; teacher), Mr. Yau Yuo Yoeung (50; director), and Mr. An Sieng (36; teacher), at the Kork Romiet Nippon Foundation School.
On the new building:
Yau Yuo Yoeung:
We never had a school here before. The community once collected money to build a school with four rooms. But it wasn't enough. Then I heard about your organization and applied for a new school. The request was granted and now we all are very happy. The new school has six classrooms and is big enough to accommodate all students. I would like to take this opportunity to thank the donor for giving us this school.
Koe Sokhom:
The new school is great for the villagers. We all are very happy and encourage our children to go to school. There are enough rooms and desks for the students. The number of students is much bigger this year than before. Right now, we have over 500 students. Next year, there will be even more. 
Vong Lyheang:
It was very difficult teaching at the old school. When the sunlight became strong, the rooms would heat up and the students could not concentrate anymore. When it rained, we had to stop teaching as well because of the noise. Whenever there was strong wind, it would rattle the tin roof and create a lot of noise.  
Koe Sokhom:
This school is much better, because it is made of concrete. At the old school, the students didn't come to school regularly. The rain, the wind, or the heat kept them at home. With the new school, none of these problems exists.