The Cambodia Rural School Project
The Lee Rudlin School
---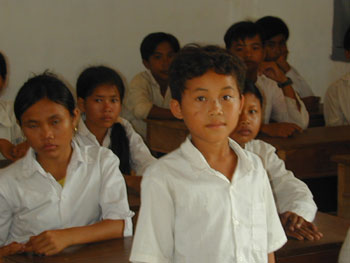 Sor Sothy is a 12-year-old 5th grade student at the Lee Rudlin School. He ranked number one among 38 classmates in the last semester. He has four siblings; he is the third son in his family. His parents are farmers. They do rice farming; two crops a year because there is a reservoir in the community that can supply enough waters for the rice farming.
"For the school's curriculum, I like math the most because it easy for me to do addition, multiplication, subtraction and other exams or calculations. I like to learn computers and English too. I learn English with the text book 'Let's Go'. Now I am on the level six and can speak English a little bit more than in the past. I send e-mails to my friends in the other provinces from my hub school where there is a satellite dish on the roof to provide internet connection. I also write messages to the school donors and browse the Internet too. From there I learn about many things, such as wild animals, big and higher buildings in various cities around the world, and people performing the traditional dance etc…," he said.
"I want to be a doctor when I grow up because I would like to work in the office, not under the sun, and cure sick people in my village," he said.
"If I have a chance and enough money, I would like to visit Angkor Wat, where there are many temples, big trees and foreign tourists that I would have a chance to practice English with them," he said.