The Cambodia Rural School Project
The Patrick and Jackie Donnelly School
---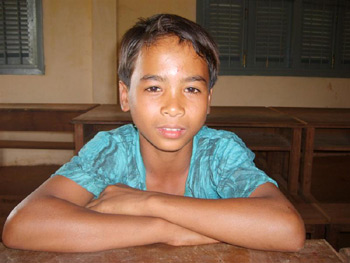 Tig Vign is 13 years old and a third grade student at The Patrick and Jackie Donnelly School. He ranks number two out of his twenty five classmates. He is best in Khmer, math, social studies and science.
He has six youngest siblings, four brothers and two sisters. His parents are farmers. They grow cashew nuts, soy bean and rice.
"During school holidays I help my family on the farm, but I always first finish my homework for my study. My school is very important for my future," Tig Vign said
He wants to be a teacher when he grows up, as he wishes to teach the children in his village.