The Cambodia Rural School Project
The Rotary Centennial School No. 1
---
Opening Ceremony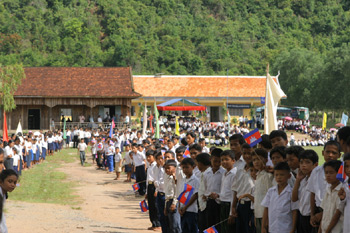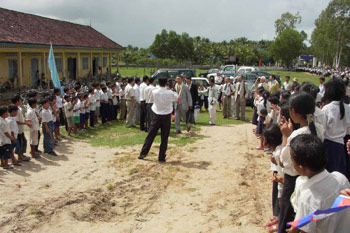 The 10-member delegation of the Toyama Rotary Clubs arrive at the school opening ceremony on June 3, 2005 as the school's students line up on both sides of the road to welcome them. Photo: The leader of the delegation, Mr. Toshio Takashima, wearing a red tie and a bouquet of flowers around his neck, walks in front of the delegation.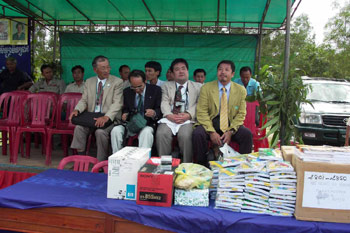 Gifts, including school supplies, a computer printer and tape recorders for the school and students are laid on a table in front of the Japanese delegation as they sit on a platform during the opening ceremony. Photo from left to right: Mr. Takaharu Nakao; Mr. Toshiaki Fujii; Mr. Daisuke Yoshida; and Mr. Yutaka Koizumi.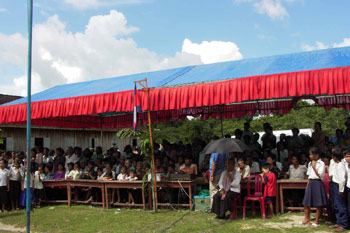 Local villagers and students sit under tarpaulin during the school opening ceremony.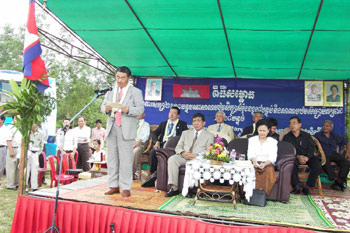 Mr. Toshio Takashima, deputy governor of the Toyama 2nd sub-district, gives a speech to students, teachers and villagers at the ceremony.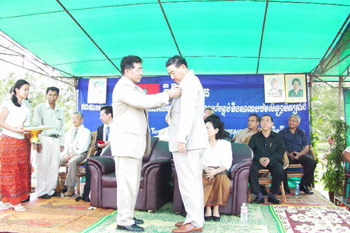 Im Sothy, Ministry of Education, Youth and Sports secretary of state, pins the gold medal for national construction to Mr. Toshio Takashima, representative of the Toyama Rotary Clubs, in recognition for building two schools for Cambodian children.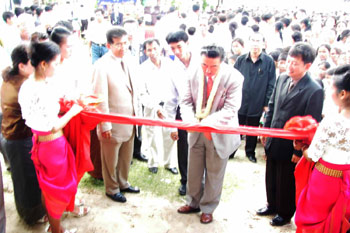 Mr. Toshio Takashima cuts the red ribbon to inaugurate the 4-room concrete school buildings built by the Toyama Rotary Clubs.

A metal plaque with the names of the school's donors is fixed to a wall near a class-room. Photo: Mr. Keisuke Wakabayashi poses for his picture beside the plaque.